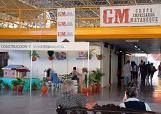 (Tomado de Granma)
( English version at the end of the text)
La provincia de Mayabeque mostrará lo mejor de su cultura en Expocuba del 25 al 29 de este mes. La muestra titulada Mayabeque: una mirada al futuro, incluirá también los actuales avances del territorio en las nuevas condiciones socio-económicas que vive el país.
Quienes visiten por esos días el recinto ferial capitalino podrán disfrutar, desde las 2:00 p.m., del miérco­les 25, de la actuación de ni­ños repentistas que con sus improvisaciones defienden a puro amor la cultura campesina; de agrupaciones musicales como Tran­seún­te de la AHS, Café Negro, Amanecer y de los Tambores de Bejucal, galardonados recientemente con el Premio de Honor Cubadisco 2014.
Los seguidores del teatro encontrarán en los grupos Pasos, Las Olas, y Estro de Montecallado una buena oportunidad para adentrarse en el mundo de la actuación con un alto nivel profesional. Lo mismo le sucederá a los amantes de la danza con la Compañía Sabor Latino y Pasti Dance junto al DJ Jochy. No faltarán las artes plásticas y la literatura, esta última a través de la venta de las publicaciones de la editorial Mon­tecallado.
En un ambiente de exposición y ventas de productos, entre ellas artesanías del Fondo Cubano de Bienes Culturales y de Artex, la población disfrutará de la presentación de Tania Pantoja y su orquesta el sábado 28 a las 3:00 p.m., y de las tradicionales Charangas de Bejucal (con sus carrozas La Espina de Oro y Ceiba de Plata, dedicadas este año al aniversario 300 de la fundación de la Ciudad de San Felipe y San­tiago del Bejucal), a las 9:00 p.m., del mismo día.
Para el domingo 29 a las 3:00 p.m., está prevista la actuación de Leoni Torres y su orquesta como cierre de la muestra que puede ser visitada desde el mismo miércoles 25 a las 2:00 p.m., y a partir de las 9:00 a.m., el resto de los días.
...............
Mayabeque show their culture in Expocuba
( Taken from Granma )
Mayabeque Province show the best of their culture in Expocuba from 25 to 29 this month. The exhibition entitled Mayabeque : a look to the future, will also include current developments of the territory in the new socio- economic conditions in the country .
Visitors to the capital in those days trade fair will enjoy, from 2:00 pm , Wednesday 25 , repentistas the performance of children with pure love improvisations defend peasant culture ; Transient musical groups like the AHS , Black Coffee, Sunrise and Drums Bejucal recently awarded the 2014 Award of Honor CUBADISCO .
Fans will find the theater in Steps , Waves , and Estro of Montecallado groups an opportunity to enter the world of acting with a high professional level . The same will happen to the dance lovers with Sabor Latino Dance Company and Pasti Jochy next to DJ . No shortage visual arts and literature , the latter through the sale of publications Montecallado publisher.
In an environment of exposure and sales of products , including handicrafts Cuban Fund of Cultural Assets and Artex , people enjoy presenting Tania Pantoja and his orchestra on Saturday 28th at 3:00 pm , and traditional Charangas Bejucal (with floats La Ceiba Espina Gold and Silver , this year dedicated to the 300th anniversary of the founding of the City of San Felipe y Santiago del Bejucal ) , at 9:00 pm , the same day.
For Sunday 29 at 3:00 pm , is scheduled performance Leoni Torres and his orchestra as closing the sample which can be accessed from the same Wednesday 25 at 2:00 pm , and from 9:00 am , the remaining days . (Translated by Google )