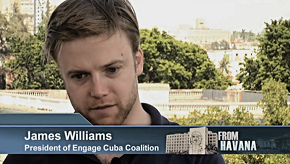 (Tomado de Cubadebate)
(English translation at end of text)
La organización estadounidense Engage Cuba presentó un Consejo Estatal creado en Georgia, cuyas acciones estarán dirigidas a poner fin al bloqueo comercial, económico y financiero de Estados Unidos contra la isla caribeña. El consejo está integrado por prominentes hombres de negocio y líderes comunitarios que buscan ampliar el comercio con Cuba, y proporcionar oportunidades para las empresas de este estado sureño. "Las empresas de Georgia están atrapadas y nuestros competidores extranjeros siguen aprovechando los mercados crecientes de Cuba.
La apertura del comercio proporcionaría enormes oportunidades para los sectores de la agricultura, el turismo y la industria", subrayó James Williams, presidente de Engage Cuba. "Es hora de poner fin a más de 50 años de fallidas políticas aislacionistas hacia Cuba", agregó.
Enfatizó además que, aunque Atlanta está a menos de dos horas en avión de La Habana, a los georgianos se les mantiene la prohibición de viajar libremente a Cuba. El Consejo Estatal de Georgia creado por Engage Cuba está integrado, entre otros, por Gary Black, Comisionado del Departamento de Agricultura estatal; William F. Bina III, de la Mercer University School of Medicine; Marcos Butler, comisionado del Departamento de Trabajo; Justin Clay, Director de Relaciones Gubernamentales, y Terry Coleman, expresidente de la Cámara de Representantes estatal.
También están presentes Billy Crider, presidente de Crider Inc.; John Cushnie, de la Cámara de Comercio de Georgia; Larry H. Hanson, administrador de la ciudad de Valdosta; John C. Key, director ejecutivo del Consejo Panamericano de Comercio; Jerry Lane, presidente de Claxton Aves, y Jann Moore, Director de Asuntos internacionales de la empresa Caterpillar.
Otros miembros son Sam Pardue, del Colegio de Ciencias Agrícolas y Ambientales; Sean Register, ejecutivo del Registro Internacional; Tas Smith, especialista nacional del Farm Bureau; Ron Stephens, presidente de la Cámara de Desarrollo Económico y Turismo Comisión, y Dennis Wynn, director de desarrollo de Hotels Choice.
Engage Cuba aboga por una ley de exportación y expansión agrícola para 2015, con el fin de permitir a los agricultores de Georgia ofrecer financiamiento a los importadores cubanos. A su vez, trabaja para levantar la prohibición de viajar a Cuba, la ampliación de los mercados y proporcionar oportunidades adicionales para que la agroindustria de Estados Unidos pueda exportar a Cuba. Además del comité creado en Georgia, Engage Cuba tiene consejos estatales en Minnesota, Ohio, Tennessee, Arkansas y Louisiana.
--------------
Create group in the US to try to end the blockade against Cuba

(Taken from Cubadebate)

The US organization Engage Cuba presented a State Council established in Georgia, whose actions will be aimed at ending the economic, commercial and financial US blockade against the Caribbean island. The council is composed of prominent businessmen and community leaders seeking to expand trade with Cuba, and provide opportunities for companies in this southern state. "Companies of Georgia are trapped and our foreign competitors are still taking advantage of the growing markets of Cuba.
Trade opening would provide enormous opportunities for agriculture, tourism and industry, "said James Williams, president of Engage Cuba. "It is time to end more than 50 years of isolationist policies failed to Cuba," he added.
He also emphasized that although Atlanta is less than two hours by plane from Havana, the Georgians are kept a ban on travel to Cuba freely. The State Council of Georgia created by Engage Cuba is integrated, among others, Gary Black, Commissioner of the State Department of Agriculture; William F. Bina III, of the Mercer University School of Medicine; Mark Butler, commissioner of the Department of Labor; Justin Clay, Director of Government Relations, and Terry Coleman, president of the state House of Representatives.
Billy Crider, president of Crider Inc .; are also present John Cushnie, the Chamber of Commerce of Georgia; Larry H. Hanson, city manager of Valdosta; John C. Key, executive director of the Pan American Trade Council; Jerry Lane, president of Claxton Poultry, and Jann Moore, Director of International Affairs of the company Caterpillar.
Other members include Sam Pardue, the College of Agricultural and Environmental Sciences; Sean Register, executive of the International Registry; Tas Smith, national specialist Farm Bureau; Ron Stephens, president of the Chamber of Economic Development and Tourism Committee, and Dennis Wynn, director of development for Choice Hotels.

Engage Cuba advocates a law export agricultural expansion and 2015, in order to allow farmers in Georgia provide financing to Cuban importers. In turn, works to lift the travel ban to Cuba, expanding markets and provide additional opportunities for US agribusiness to export to Cuba. In addition to the committee set up in Georgia, Engage Cuba has state councils in Minnesota, Ohio, Tennessee, Arkansas and Louisiana. (Translated by Google)