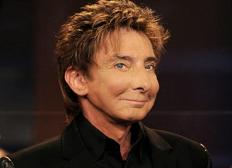 (English version at the end of the text)
Por Amaury Pérez Vidal
No le ha bastado vender casi 90 millones de copias de sus discos en todo el mundo: 32 albums de estudio, 8 en vivo, 12 compilaciones y 4 soundtracks además de producirle discos a Bette Midler, Dionne Warwick, Nancy Wilson y Diane Schuur entre otras desde su debut en 1973. Tampoco se conformó con ganar Grammys, Emmys, un Tony, y una nominación al Oscar (por Ready to take a chance again tema del film Foul Play) además de hacer giras por todo el mundo y grandes shows en Las Vegas. Ha vivido sin detenerse, sin pausas, sin descanso.
El cantante, compositor, arreglista, pianista, productor y también actor Barry Manilow (Brooklyn N.Y.C 1943) ha editado este año ¡dos discos!. Uno no le fue suficiente y les aseguro que lo era por su calidad. Si las compañías discográficas editan dos es porque es negocio por partida doble y ganancia para todos.
A principios de éste 2014 editó "Night Songs" un hermoso CD a piano solo interpretando grandes standars norteamericanos, una joya. El álbum rezuma buen gusto y sensibilidad; recomiendo escucharlo con una copa de vino. Ahora Verve Records, su nuevo sello, con el genial David Foster al frente, acaba de poner en el mercado "My Dream Duets" (Mis dúos soñados) once duetos de Manilow con artistas fallecidos en un alarde de tecnología, pasión, mucho trabajo y utilizando una nueva técnica de separación de voces llamada ADX Technology.
Los nuevos arreglos, la producción musical y el sonido del CD son impecables. Debo ser sincero; cuando me enteré hace meses de que "saldría" al mercado éste disco me pregunté: ¿Otro disco de dúos? Ya editó uno antes ¿Por qué no material nuevo? Cuando lo escuché asistí fascinado al descubrimiento de un álbum que disfrutaré muchas veces entre emociones y tesituras sentimentales sin paralelo. Barry tiene la facultad, cuando de nostalgias se trata, de exprimirte el corazón.
Mr. Manilow comparte su voz, cada vez más honesta y entregada, con las de Whitney Houston, Judy Garland, Dusty Springfield, John Denver, Sammy Davis Jr, Jimmy Durante, Andy Williams, Marilyn Monroe, Cass Elliot (Mama Cass del cuarteto The Mamas & the Papas), Louis Armstrong, y Frankie Lymon el inspirador de Michael Jackson. La selección no pudo ser mejor ni más ajustada a su timbre, estilo e intereses musicales actuales.
El álbum concebido y arreglado por Manilow, orquestado por Doug Walter y producido por Barry y David Benson es sorprendente en la primera escucha y avasallador en la segunda y en las subsiguientes.
He tenido el privilegio de ver, escuchar y encontrarme personalmente a Barry Manilow en siete ocasiones en México y USA desde 1995 y ahora solo espero que la fortuna me traiga nuevamente la oportunidad de escuchar "My Dream Duets" en "vivo"; Quiero comprobar, aunque lo imagino, como lo hará.
........................
SPEAKING OF DISCS Barry Manilow 2014: Night Songs & my dream duets
By Amaury Perez Vidal
(From CubaDebate)

There has not been enough to sell nearly 90 million copies of her albums worldwide: 32 studio albums, 8 live 12 compilations and 4 soundtracks besides make you discs Bette Midler, Dionne Warwick, Nancy Wilson and Diane Schuur including since its debut in 1973.
Nor was satisfied with winning Grammys, Emmys, a Tony, and an Oscar nomination (for Ready to take a chance again Foul Play theme of the film) as well as touring worldwide and big shows in Las Vegas. He has lived without stopping, no breaks, no rest.
Singer, songwriter, arranger, pianist, producer and actor Barry Manilow (Brooklyn NYC 1943) has published¡ two albums this year !. One did not do enough and I assure you it was for their quality. If record companies publish two is because it is doubly business and profit for all.
In early 2014 he released "Night Songs" a beautiful piano solo CD playing great American singles, a gem. The album exudes good taste and sensibility; I recommend listening with a glass of wine. Now Verve Records, his new label, with the great David Foster to the front, just put on the market "My Dream Duets" (My dreamed duets) eleven Manilow duets with artists who died in a display of technology, passion, hard work and using a new technique called ADX voice Separation Technology.
The new arrangements, music production and sound of the CD are impeccable. I must be honest; when I heard months ago that "would" the market this album I wondered: Another drive dui? It released one before why not new material? When I heard I attended fascinated to discover an album that will enjoy many times between emotions and emotional tessituras unparalleled. Barry has the power when it comes to nostalgia, to squeeze the heart.
Mr. Manilow shares his voice, more honest and dedicated, with Whitney Houston, Judy Garland, Dusty Springfield, John Denver, Sammy Davis Jr., Jimmy Durante, Andy Williams, Marilyn Monroe, Cass Elliot (Mama Cass quartet The Mamas & the Papas), Louis Armstrong, Frankie Lymon and the inspiration of Michael Jackson. The choice could not be better or more suited to its tone, style and current musical interests.
The album conceived and arranged by Manilow, orchestrated and produced by Doug Walter Barry and David Benson is striking on first listen and overwhelming in the second and subsequent.
I have been privileged to see, hear and meet Barry Manilow in person seven times in Mexico and USA since 1995 and now only hope that fortune bring me back the opportunity to hear "My Dream Duets" "live"; I checked, but I imagine, as it will. (Trtaducido in Google)
Comentarios » Ir a formulario